IMMACULATA TURNS 60 !
This is a very exciting year for our school, 60 years is a huge accomplishment and we are going to CELEBRATE all year long!
This page will be your go to for all the events, projects, and pictures.  Check back frequently to see what's new.
_____________________________________________________________________________________
BLAST FROM THE PAST IN PICTURES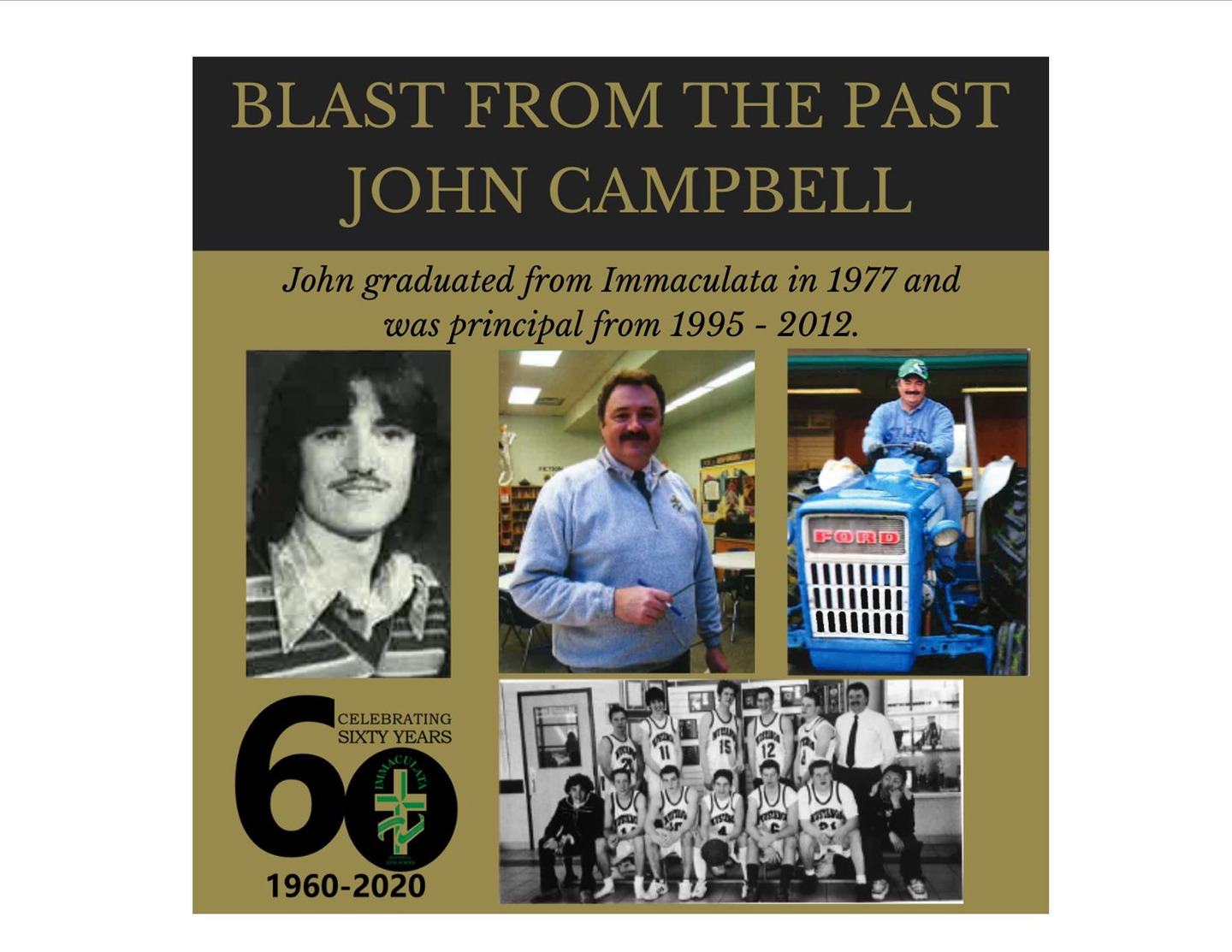 After 31 years at Immaculata, Mr. Brian Drosdovech aka "Mr. D" is retiring this year. It is only fitting that our last "Blast from the Past" tribute, of our 60th anniversary year, is to Mr. D. Thank you for the many years of teaching, coaching and counselling. You have inspired so many students to work hard and play hard. Immaculata is a better place because of you!
PRAYERS FOR ALUMNI
For the month of June, we are wrapping up our grad class Rosaries. Students in Religious Education Classes and Staff members will be praying a decade of the rosary for Grad classes from2016 to 2020. Grad photos will be displayed in class during class prayer. 
_____________________________________________________________________________________
ACTS OF SERVICE
Our school's first act of service for this year was our Thanksgiving Food Drive for The Society of St. Vincent De Paul.
Our 2nd Annual Turkey Drive was a huge success!  Braving the cold to receive  donations of frozen turkeys and cash for the Central Okanagan Food Bank.


Our Mission team has been out in the community helping out before Christmas with Project 18  and it's focus of ending and preventing youth homelessness in Kelowna. The whole school was involved in their donation drive bringing in household goods and food.
Many of our art students participate in "Art for Social Change" focussing on their "Number".  
During Catholic Schools Week a food drive was held in support of St. Vincent de Paul.
Grade 10 students enjoying a walk at Munson Pond and taking the time to pick up any litter they found along the way.
Grade 11/12 Biology students make planted pots with donations from
"Better Earth Gardens".  They delivered them across the street to Mountainview just in time for Mother's Day! 60 pots in total !
The final event of our 60th Anniversary year was the planting of a tree in the front of the school.  Pictured here is Superintendent Art Therrien, Bishop Gregory, and Alumnus Mrs. Beetlestone.